Posted by Freddy
Ever wanted to meet the habs players personally, have them sign your jerseys and take a picture with you? Want to watch them practice?
It's a fun activity to do if you're an avid hockey fan like me, and I'm surprised most people don't know how to do it so I'm simply going to share it with you.
Practice time!
All professional sports teams hold team practices several times a week, and our Montreal Canadiens are no different. You probably already know that our Canadiens practice at the Complexe Sportif Bell in Brossard, but maybe you don't know when they practice or how to get there. I'll make it easy for you, you can get directions to the Complexe Sportif Bell by clicking here.
Now the way to know when the Canadiens are practicing next is through...
...The Media Hotline!
Nearly all professional sports teams use a Media Hotline to inform journalists of upcoming events and practice times of the teams so that the media can prepare itself and be in the right place at the right times to cover the team. This is the way RDS and ESPN knows when to send a reporter over to follow a team activity in order to prepare and publish a daily report or article about the teams' practice or activities.
In the Montreal Canadiens' case, the public Media Hotline Phone Number is:
(514) 989-2835
Pick up your phone right now and give it a call. You'll most probably hear a recording that says something like: "Dimanche 27 avril les canadiens s'entraînent à 11h au complexe sportif Bell de Brossard. Sunday April 27 the canadiens practice at 11am at the Bell sports complex in Brossard."
This message tells you when and where the Canadiens will be practicing, and most of the times the entire team is present as well as the coaching staff and reporters you're used to seeing on television.
Meeting the players
So now you know where the Canadiens practice, and you can know when they are practicing. The last step is the easiest. Just be there on time and watch the practice. It usually takes around an hour or a bit more. It's fun to watch the Canadiens practice but we're not here to just watch a practice, are we? We're here to meet the players personally, so here's how you do that:
Here's what the Complexe Sportif de Brossard looks like:

And here's our foolproof player-meeting strategy:

See the blue rectangle i drew on the left? That's the tunnel that leads players in and out of the underground parking of the complexe. Just stand where the red arrow points, which is right in front of the underground parking exit and players will pass by while driving home. If you're in a group, have a habs jersey on and are waiting there, the good players will stop their cars, either say hi and autograph something for you, or they'll even step out of the car for a souvenir picture.
And that's how you meet the Montreal Canadiens personally just after you've enjoyed watching them practice.
Since you now know how, share this article with your friends and go watch the Canadiens practice in a group. You'll have fun. Right after you're done, if you're hungry, there's a Five Guys Burgers restaurant right near the Complexe, their burgers and fries are special, give yourself a treat.
Here's my Canadiens cap, signed by ALL the players. Now go get yours signed!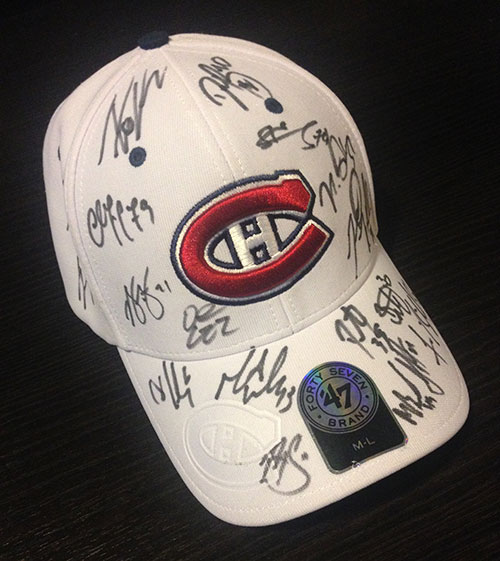 Go Habs Go!
What do you think about this post? Add your comment below: