Posted by Freddy
During the past week, you might have heard about the new app "Yo" for iPhone and Android. Yo is creating a new way of communication, a zero-character based communication and it's catching fire like hell. Yes, ZERO characters.
What is this Yo app about, and how does it work?
The concept is very simple and easy. You install Yo on your phone and choose a username, and finally you add your friends. Whenever you want to send a "Yo" to a friend, you simply tap their name and the app will Yo your friend.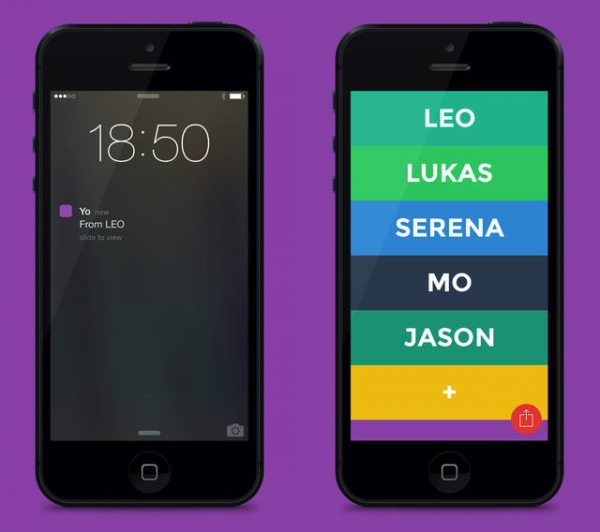 At first, you might think the concept is not so bright because it's so simple but if you give it a thought and start using it you'll find it to be amazing!
A couple examples:
Want to tell your girlfriend "I miss you"? Just Yo at them
Want to tell your friends you're ready to leave for the party? Just Yo at them
Want to tell a friend you're thinking about them? Just Yo at them
This way of communication is based on time and context, not on the message; it is a new way of communicating without communicating and already millions of people started using it and i'm LOVING it!
How my blog integrates with Yo
Using the new Yo Developer API my blog can now Yo you on your phone everytime I publish a new post. No need to interrupt you or send you messages or e-mails, my blog just sends you a Yo and you'll know that a new post has been published, right when it's published, and you can come read it whenever you have some free time on your hands. I don't see a simpler way we could stay in touch.
What a convenience, Thanks Yo!
Subscribe to my blog on Yo
Here's what you must do to receive my blog's "Yo"s; it's easy:
Download the Yo App on your phone (You can click this link even if you're on your phone right now, Yo!)
Add my blog's Yo username: FREDDYSBLOG
Send a Yo to FREDDYSBLOG
That's it! You'll be subscribed to my blog's Yo
If you want to unsubscribe you can delete FREDDYSBLOG from your Yo list
So I'm looking forward to Yoing you whenever I have something interesting for you. Also don't forget to tell your friends about Yo so that you get more fun and usefulness out of it; believe me, life will be a bit easier for you once you do. It sure did for me!
Update: The Yo twitter account just mentioned this post.
What do you think about this post? Add your comment below: